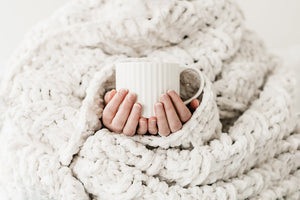 Orders placed Nov 27 & onwards will be delivered in 2024
Transform your space, elevate your life with our décor.
We want our customers to enjoy and cherish our products, as much as we enjoy creating them.
Shop Now
Our vision
Our vision is to create a world where homes are filled with personalized and sustainable handmade décor that reflects the unique style and values of each individual. We strive to continuously improve and innovate our products, while always putting our customers' satisfaction first. We aim to inspire creativity and warmth in every home, and to make a positive impact on the environment and the world.
★★★★★

Considering how much love and effort went into making my gorgeous blanket, it's amazing Jesse charges what she charges! It's worth every penny and every time I snuggle up with it I can dive into all things hygge! My dog even loves my Tiny Fire blanket so I may have to buy her one as well. Knowing I am supporting an amazing hard working local business makes me even happier to purchase from Tiny Fire! Jesse is a true talent :)

- Meghan H
★★★★★

I bought the Burleigh Blanket for my couch and loved it the moment I unpacked it! It is the perfect size for curling up on the couch with and taking a snooze. It is so well made, I have washed it and no issues. I wanted something a little heavier so I bought the currumbim blanket with tassels and it is the absolute perfect weight for cool nights. The knit is gorgeous, it looks like tiny little hearts. Every house should have a blanket from tiny fire cozy home. The blankets are gorgeous, they wash well and are beyond comfortable.

-Kirsten K
★★★★★

As soon as my daughter saw Jesse's soft gorgeous blankets she begged for me to order her one. Jesse is extremely talented and lovely to work with. She crocheted the blanket with the exact colour and pattern that my daughter wanted. Every night she wraps herself in a beautiful handmade blanket that is as gorgeous to look at as it is comforting and warm. This will be a blanket she'll use and treasure forever.

-Shelley
★★★★★

I received The Elwood Blanket as a gift and I could not imagine the time that went into it! I use it nightly and everyone that comes into my home comments on it. I will defiantly be purchasing others as gifts for those special in my life

- Barb.